Rodrigo Firmino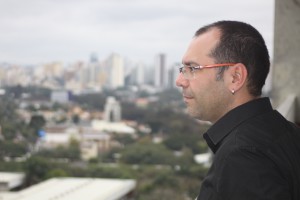 I am currently working as a visiting researcher (Honorary Senior Research Associate) at UCL Urban Laboratory in collaboration with Dr Ben Campkin, following a research agenda titled "Connected Spaces, Controlled Movements: Technology, Surveillance, Security, and Cities", funded by CAPES (a foundation affiliated with the Ministry of Education of Brazil). I am an Associate Professor in Urban Management at the Pontifical Catholic University (PUCPR) in Curitiba, Brazil, and a CNPq (Brazil's National Council for Scientific and Technological Development) Research Fellow. Since 2009, I have been chief editor of urbe, a Brazilian urban studies journal that publishes papers in Portuguese, English, Spanish and French. I am the Brazilian PI for a Brazil-UK academic partnership project on "Augmented Urbanities and Smart Technologies" to critically examine emerging forms of digital urbanism, funded by the ESRC and Brazil's Research Councils Federation (CONFAP). I am also a founding member of the Latin American Network of Surveillance, Technology and Society Studies and have been publishing articles and essays in major journals about surveillance & space, augmented technologies & cities, digital urbanisation, cyberculture, smart urbanism, among other themes.
Click here for my profile on ResearchGate
Recent publications in English
Private video monitoring of public spaces: The construction of new invisible territories (Urban Studies, 2015), with Fábio Duarte.
Urban Phantasmagorias: Cinema and the Immanent Future of Cities (Space and Culture, 2014), with Fábio Duarte and Andrei Crestani.
Fear, Security, and the Spread of CCTV in Brazilian Cities: Legislation, Debate, and the Market (Journal of Urban Technology, 2013), with Marta Kanashiro, Fernanda Bruno, Rafael Evangelista e Liliane Nascimento.
Eyes of Glass: Watching the Watchers in Monitoring Public Places in Curitba, Brazil (Surveillance & Society, 2012), with Elisa Trevisan.
Manifestations and implications of an augmented urban life (International Review of Information Ethics, 2010), with Fábio Duarte and Clovis Ultramari.
Infiltrated city, augmented space: information and communication technologies, and representations of contemporary spatialities (Journal of Architecture, 2009), with Fábio Duarte.
Empowerment or repression? Opening up questions of identification and surveillance in Brazil through a case of identity fraud (Identity in the Information Society, 2010), with David Murakami Wood.